Welcome
I hope you share my love of American theatre history, an interest which continued to increase throughout my teaching and directing career. I am particularly drawn to researching and writing about nineteenth century actors, managers and stage technicians, as they competed to entertain the American public in an era of changing tastes and methods of theatrical production.
Featured releases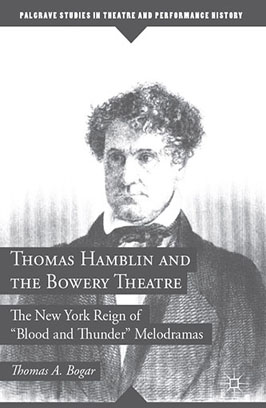 Thomas Hamblin and the Bowery Theatre: The New York Reign of "Blood and Thunder" Melodramas
This book recounts the personal and professional life of Thomas Souness Hamblin (1800-1853), Shakespearean actor and Bowery Theatre manager. Primarily responsible for the popularity of "blood and thunder" melodramas with working class audiences in New York City, Hamblin discovered, trained and promoted many young actors and, especially, actresses who later became famous in their own right. He also epitomized the "sporting man" of mid-nineteenth century life, conducting a scandalous series of affairs and visits to Manhattan brothels, which cost him his marriage to Elizabeth Blanchard Hamblin (1799-1849) and made him the brunt of moralist, religious and journalistic crusades, notably that of James Gordon Bennett's New York Herald. His machinations and perseverance through trying challenges, including several destructions of the Bowery Theatre by fire, extensive financial and legal complications, and the untimely deaths of several young protégées, earned him equal measures of admiration and opprobrium.
(Release date: Winter 2018)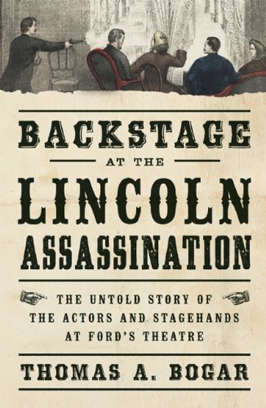 Backstage at the Lincoln Assassination
This is the untold story of Lincoln's assassination...OUT NOW! It tells the story of this singular event in American history from the unique backstage point of view. Every other version of the assassination has either followed Booth out the back door of the theatre to his death in a tobacco barn or Lincoln out the front door to his in a small bedroom across the street. The story left untold is that of the forty-six terrified people left huddling in the theatre as soldiers take up stations inside and the audience surges into the street, chanting "Burn the place down!" Many of them were arrested, interrogated and imprisoned merely because they knew John Wilkes Booth. On April 6, 2015, Regnery History released the paperback form of Backstage at the Lincoln Assassination.
Backstage at the Lincoln Assassination establishes for the first time that Ford's Theatre was a hotbed of secessionist thought and simmering conflict. Even before April 14, 1865, it was ready to explode. Confederate veterans worked side by side with Union veterans; some had lost brothers or sons fighting for each of the opposing sides. Evidence suggests that more than a few people backstage had advance knowledge but were never implicated, and that the Union War Department planted spies backstage to keep an eye on disloyal characters. This book establishes for the first time where each person backstage was at the moment of the shot, what each was doing, and how each person's life was irrevocably changed from that moment on. The research reflected in this book was meticulous, utilizing previously unpublished letters and photos of these forty-six people, as well as the latest digital search engines to uncover new links to Union and Confederate Army records, pension and census data and previously undiscovered interviews.

Read More About The Key Figures Here